Programs
Fellowship Grant for Alternatives to Animal Research in Human Health or Sex Differences
The American Fund for Alternatives to Animal Research (AFAAR) and the New England Anti-Vivisection Society (NEAVS) offer a $40,000, one-year postdoctoral fellowship grant (with possible renewal) to a woman interested in developing, validating, or using alternatives to animal methods in the investigation of human health or sex differences.
Eligibility
The award is available to postdoctoral female scientists researching human health or sex differences whose research involves development, validation, or use of non-animal alternatives. Applicants must hold an interest in using or promoting non-animal alternatives in research. Proposals are reviewed by an award committee with expertise in related fields of the project. The award is not limited to the U.S. – international applicants are welcome.
How to Apply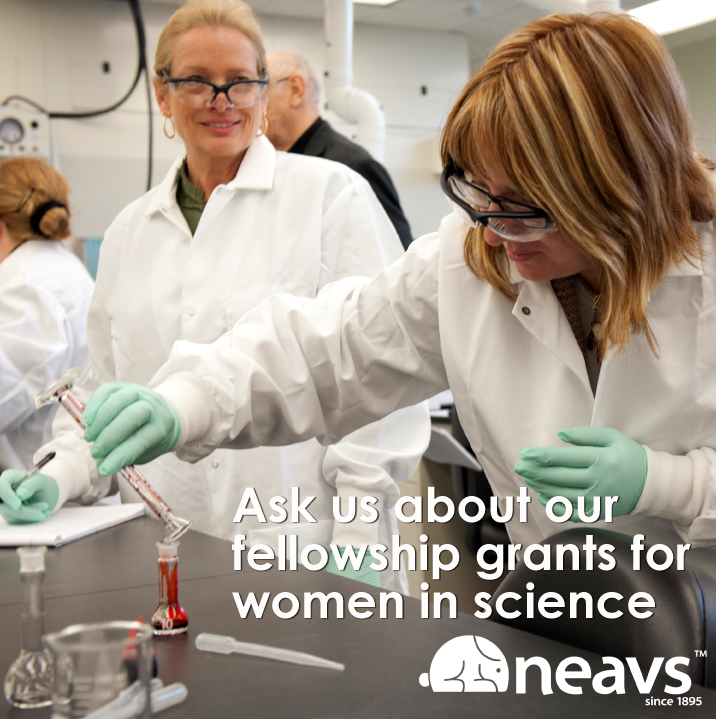 Applicants should send a cover letter explaining their interest in non-animal research methods in human health or sex differences; career goals; CV; research proposal including information regarding the scope of their research; three letters of recommendation (one from project mentor); a list of other researchers involved; and the name and credentials of their supervisor. Applicants should indicate other potential funding sources. The award is based on greatest future impact of the research as well as experience and commitment to alternatives to animal research. Send applications to:
AFAAR/NEAVS Alternatives Grant Award
333 Washington St., Suite 850
Boston, MA 02108
or by email to afaar@neavs.org
Timeline
Applications for 2017-2018 year to be accepted starting July 1st, 2017.
Applications due by September 15th, 2017.
Expectations
Recipient of the AFAAR/NEAVS fellowship grant must agree to the following:
A mid-year progress report detailing progress, anticipated outcomes, as well as setbacks and concerns
Acknowledgment of the award in publications and formal presentations
Electronic copies of final report and publications
Three 300-500 word summaries of the project for publication by AFAAR/NEAVS to advance the organizations' and award's goals
A final summary report of the research outcomes
A quote and photograph to be used with AFAAR/NEAVS award reports
If the recipient is unable or unwilling to continue the funded research, the full award must be returned to AFAAR/NEAVS. If the project requires more than one year, the committee will consider but does not guarantee renewal. The recipient must disclose in writing if their hosting facility is engaged in animal research. If so, the recipient must confirm her role is exclusively in the development or use of alternatives, and does not support or contribute to animal projects. The recipient must also confirm in writing that she has no affiliation or obligations to any corporation that profits from sale of animals or equipment for animal research.
Award Committee
Theodora Capaldo, EdD, psychologist, AFAAR Trustee and NEAVS President
Jarrod Bailey, PhD, geneticist and NEAVS Science Advisor
Marge Peppercorn, MD, physician and NEAVS Advisory Board member
Scientific Advisory Committee (Partial list)
Note: Current affiliations are included for information purposes only and do not indicate institutional or organizational involvement in the AFAAR/NEAVS Fellowship Grant.
Rodger Curren, PhD, in vitro researcher
Dr. Curren is founder and current president of the Institute for In Vitro Sciences, Inc., which provides educational and laboratory-based resources for non-animal testing to industry, government, animal welfare organizations, and the public. He has 10 years of experience in genetic toxicology and chemical carcinogenesis, and now works to replace animal testing with scientifically superior non-animal methods. Dr. Curren serves on committees and science advisory boards of organizations focused on the development, validation, and practical use of alternative methods to whole animal testing. He is also current president of the American Society for Cellular and Computational Toxicology, and is a member of the Scientific Advisory Committee for the European Union's validation authority, ECVAM.
Alison Estabrook, MD, breast/oncology surgeon
Dr. Estabrook currently serves as chief of the Comprehensive Breast Center at St. Luke's-Roosevelt Hospital in New York City, and professor of clinical surgery at Columbia-Presbyterian Medical Center. She was named as one of New York Magazine's "Best Doctors" in their June 2011 edition. Dr. Estabrook built a comprehensive breast service center combining genetics, psychiatry, and complementary medicine. She also co-founded Women at Risk, a program providing medical care to women at high risk for breast cancer. Her specialties include breast conservation, skin and nipple sparing mastectomy, high risk patients, and sentinel node biopsy.
Beverly Greenwold, MD, internal medicine practitioner (retired)
Dr. Greenwold is board certified in internal medicine. She received her medical degree from Boston University, and completed her internship and residency at Veterans Administration Medical Center in Boston. She has over 35 years of experience as an MD, and is also an advocate for alternatives to animal use in research.
Martha Hutchinson, PhD, MD, pathologist (retired)
Dr. Hutchinson is a retired pathologist with a PhD from Purdue University and an MD from Case Western Reserve University. The College of American Pathologists called her "instrumental in developing the first … 'Proposed Guidelines for Primary Screening Instruments for Gynecologic Cytology.'" She has held multiple positions as an assistant, adjunct, and associate professor in pathology, nutrition, and gynecology. She is a published author on over 80 scientific papers in her field.
More Information
Visit Alternatives to read "Biological Sex Differences: Implications for Biomedical Research and Animal Use," by geneticist and NEAVS Science Advisor Jarrod Bailey, PhD.
At this time, other research funding is considered by invitation only.